Competency Index for the Library Field 2014
An updated edition of the WebJunction compilation of competency statements that address a broad spectrum of library service and practice.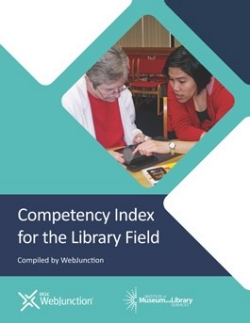 "WebJunction has just completed an update of the Competency Index for the Library Field. The original 2009 edition has been a valuable resource for libraries, helping staff identify and obtain the knowledge, skills and support needed to power relevant and vibrant libraries. However, it was time for an update. With ever-increasing economic, social, and educational demands, libraries have experienced dramatic changes in community needs and the tools available to serve those needs.
Three elements in particular have been emphasized throughout: 21st century skills, accountability, and community engagement.
WebJunction intends for the Index to be widely shared and adapted by a variety of libraries to meet their individual needs. Please feel free to download the PDF (3.3 MB) as a whole or the Word version  for remixing as you see fit.
[Note: the original 2009 edition is still available for download. Look for it under WebJunction in the list ofLibrary Staff Competency Collections.]"
Stephen