http://lifehacker.com/5798308/how-to-identify-and-avoid-spreading-misinformation-myths-and-urban-legends-on-the-internet
"Even if you've never embarrassed yourself by unknowingly spreading an urban legend as fact to friends and family, you've at least been on the receiving end of one of these misinformed messages. Next time an email, tweet, or link seems a little fishy, here's how to spot it before your itchy trigger finger sends it to all your friends or followers.P
Step One: If It Walks Like a DuckP
The first step is the hardest: You've got to employ a healthy level of skepticism for what you're reading, watching, or otherwise consuming—on the internet or elsewhere. You've heard it before, but if it sounds too good to be true, it probably is.
Step Two: Do Your Research
Turn to Snopes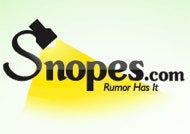 Snopes is "the definitive Internet reference source for urban legends, folklore, myths, rumors, and misinformation"—and for the most part, it actually does live up to that goal. Snopes has been around since 1995, and if you've ever attempted to debunk an internet myth or urban legend, you've certainly seen Snopes before. The problem with Snopes, particularly in an instance like the much-tweeted misquote, is that it's not so good with the real-time misinformation. It is exceptional, however, for anything that's even a few days old, thanks to its active forums. Keep in mind, as Lifehacker reader Joel Rollins noted, "Snopes is an internet source to be evaluated like any other source. That being said….it stops a lot more stupidity than it starts." Which is to say, Snopes is generally a good, trustworthy source, but don't throw away your skepticism just because Snopes said so. If you were already dubious, though, it may be enough to tip the scales.P
Snopes isn't the only site of its ilk on the internet. Sites like BreakTheChain.org,TruthOrFiction.com, and others have similar myth debunking goals.
Searching Google (or, you know, other search engines)
Step Three: Don't Hit Send
Step Four: Absolution"
Stephen