Check out this excerpt from Kurt Vonnegut's book.  He notes the role of libraries and librarians.  I missed this in 2006 but better late than never…
Custodians of chaos
"In this exclusive extract from his … memoirs, Kurt Vonnegut is horrified by the hypocrisy in contemporary US politics"
http://www.guardian.co.uk/books/2006/jan/21/kurtvonnegut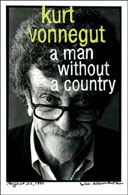 "The title of Michael Moore's Fahrenheit 9/11 is a parody of the title of Ray Bradbury's great science-fiction novel Fahrenheit 451. Four hundred and fifty-one degrees Fahrenheit is the combustion point, incidentally, of paper, of which books are composed. The hero of Bradbury's novel is a municipal worker whose job is burning books.
While on the subject of burning books, I want to congratulate librarians, not famous for their physical strength, who, all over this country, have staunchly resisted anti-democratic bullies who have tried to remove certain books from their shelves, and destroyed records rather than have to reveal to thought police the names of persons who have checked out those titles.
So the America I loved still exists, if not in the White House, the Supreme Court, the Senate, the House of Representatives, or the media. The America I loved still exists at the front desks of our public libraries.
And still on the subject of books: our daily news sources, newspapers and TV, are now so craven, so unvigilant on behalf of the American people, so uninformative, that only in books do we learn what's really going on."
Stephen